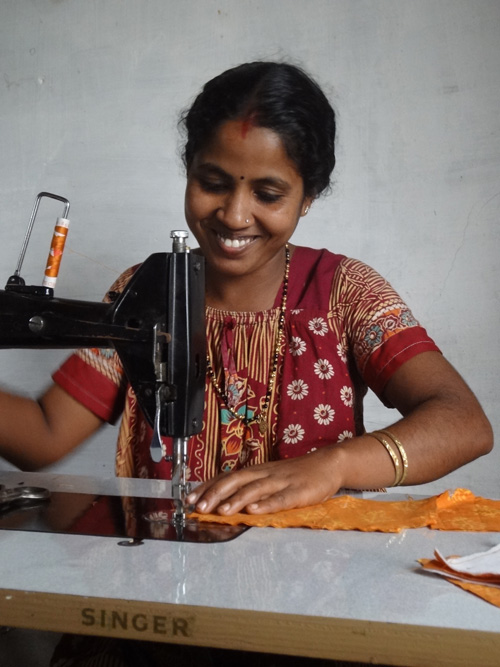 These first two weeks in Bangalore have been very exciting and incredibly hectic. For now, our team consists of our director, Jenny Koleth; her two little daughters who are 5 and 6 years old; Aunty, her mother in law; Victoria, the other volunteer, and me. We walked through half of Bangalore in search of the right material for the model bags for our community's tailoring cooperative project.
Who would have thought that getting fabric and sewing material would be so complicated! The whole process reminds me of the time I decided to make my pancakes from scratch… laborious and time consuming, yet SOoo deliciously rewarding in the end. After two weeks of eating delicious south Indian cuisine, this trip has led me to reminisce on my high school's culinary science class (hence the food metaphor)… food has become our great reward after a long day of hard work walking around the city markets. Planning for the Tailoring Cooperatives and the Community Supported Agriculture Projects feel like cooking a Dosa or a pancake from scratch, that is to say that there is no readymade instruction manual or given materials for the process, thus making the whole experience ten times more fun and getting our creative juices flowing. Acquiring all the required materials has let us on a scavenger hunt all around the city's street and fabric markets. Today (a victorious Friday) we have multiple bags in seven beautiful styles ready to be sold in the US as a model for our tailoring cooperative.
Our laborious adventure started in Bangalore with 11 hours of jetlag as our plane landed in the city on Tuesday at 2 am. Bangalore is one of the biggest metropolises in south India with about 8 million people. Being that it is such a commercial hub, we thought that Bangalore would be a good place for getting the Indian cloth and the materials for the initial model bags. However, it was not as easy as we thought because we have just started this project and this is the first time we've gone out to buy cloth so we had to go out to look in different parts of the city for the right cloth. We are learning loads!
During our initial stage we decided to partner with Jacob's Well, a fair trade sewing organization following a similar income-generating model to the one we hope to use in Kerala. Our initial task seemed simple: 1) get the cloths 2) get the buttons 3) give it the materials to the seamstresses at Jacob's Well. However, it was not nearly that easy and, just like any kitchen mishap (such as running out of flour or forgetting to buy butter), we soon found out that making a bag was much more complicated. The process included several visits to all the shop owners. For days, we literally climbed over mountains of cloth looking for the right fabrics and prints. First we visited the citytown of Ramachandrapuram. There we found a store where the closest thing they had to what we needed was rainbow colored curtains. The next day we went to Chickpete, where, after hours of search and walking, a young kid even took us out of his shop and into what looked like a giant secret storage cave filled with rolls of colorful fabric. We had to climb mountains of gigantic rolls until the end of the room where we were still unable to find any fabric for the bags.
About two weeks passed and we were finally able to ask around, find the right contacts, and find the material. By then, Victoria and I had developed a deep love for Masala Dosas, we learned how to take an autorickshaw, how to use the Indian bathrooms, and how to cross the street in rush hour! Getting the materials for the bags has given me a better sense and a deeper appreciation for the importance of a community's networks of social information. Tailoring is not only a woman's job, and developing a bag is not only a business strategy. Instead, is an art involving complex social interaction. The holder of information has the power and key to a successful tailoring business. I look forward to meeting more fabric makers and to make use of all of our newfound networks in Bangalore.