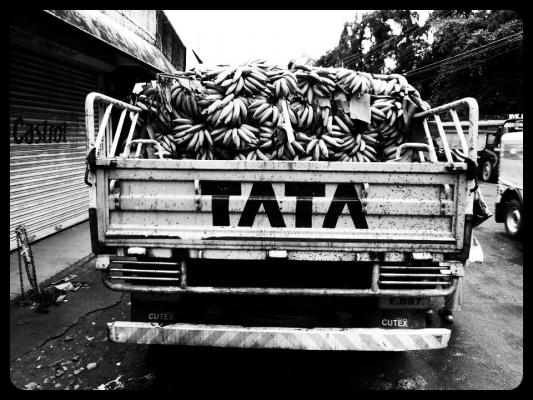 Negotiation has become an important practice in these last few weeks. I have learned that anything and everything is negotiable in India. Meeting times, prices, partnerships with other organizations, crossing an intersection, everything requires a bit of negotiation. And more importantly, all things require compromise.
A day in the small town of Mananthavady affords much practice in negotiating skills. And whether it's buttons or bananas, Jenny knows when to let up and when to stand her ground. Being in the final stretch of the struggle to gather materials for our bags that will be sold in the United States, on Saturday we ventured to a small shop just outside the center of Mananthavady. The owners were a man and his wife. He was a middle aged man who always appeared to be laughing at some secret joke, and she was quiet and attentive with the most beautiful tabby cat hazel eyes. They produce anything and everything made of coconut. Shiny painted bangles, little jewelry boxes, incense holders, carved coconut monkeys… everything except buttons.
Back in Bangalore, we had bought 80 buttons to be sewn onto our bags, a process that required three separate trips to a tiny ribbon, button, and bead shop near Commercial Street, only to come up with a handful of buttons that were too small. With little time to search for another source in Bangalore, we decided that we could simply buy the buttons in Wayanad and have them sewn on by our very own tailors in our Profugo workshop. Unfortunately, the man at the coconut shop in Mananthavady had apparently never made a button in his life and was prepared to charge us at least four times as much as we had paid in Bangalore. With much negotiation, repetition, and persistence, we (meaning mostly Jenny) drove down the price to a reasonable level, with considerable stress upon the fact that we were providing him with yet another business opportunity that he had not considered before, coconut buttons.
Not 20 minutes later, we stopped for gas at a petrol station across from which there was a relatively large produce stand. Mysore bananas, which are about the size of finger but taste as if someone has injected them with sugar, hung alluringly from the shop roof. As we were running out of bananas at the house, Jenny decided to run across the street to grab a few of the sweet mini bananas. A few minutes later she returned empty handed. She explained that not only had the shopkeeper been trying to sell her the bananas at a "foreigner's rate," which was well above the actual cost, but that he had been mocking her while the other men in the shop jeered and laughed at her. "We don't want your bananas," she had pronounced indignantly as she slid into the seat next to me. "We don't buy from people who are rude and who have no sense of customer service."
While many parts of daily life here require bargaining, negotiating, discussing, and reaching a compromise, sometimes compromise is not an option. Language and cultural barriers make negotiating difficult, as well as preconceived notions about foreigners and their economic know-how. But even streets with room for only one lane have to be used to travel both ways. Sometimes you just have to get out of your own car and into the other person's and help them find a place where you can both pass and continue on your way.
Side note: I owe that last point to our driver, Abi, who once literally got out of our car to help a truck driver get his truck unstuck from a mud puddle on the road leading to our house. He simply got out of our car and into the truck, to the truck driver's relief, and reversed it to a wider part of the road so that our car (and a few others that had lined up during the mess) could pass.